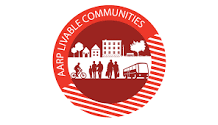 AARP Network of Friendly States and Communities seeks to connect communities that are actively working on being age-friendly. Sharing ideas, solutions and plans Membership in the AARP Network means that a community's elected leadership has made a commitment to actively work with residents and local advocates to make their town, city, county or state an age-friendly place to live.
(https://www.aarp.org/livable-communities/network-age-friendly-communities/ )
Membership in the AARP Network of Age-Friendly States and Communities does not mean AARP is endorsing any of the municipalities as a place to live. Nor does it mean the community or state listed is currently "age-friendly." Membership does means is that the community's elected leadership has made the commitment to actively work toward making their town, city, county or state a great place to live for people of all ages.
An AARP definition of livability
"Affordable and appropriate housing, supportive community services, and adequate mobility options, which facilitate personal independence and the engagement of residents in civic and social life"
Aging in Place – The vast majority of older adults want to remain in their homes and community-at-large rather than move to another area and housing situation.
Accessible Things to do – Active Life: Golf, tennis, biking, pickle ball. Arts and Culture, Social Life, Good dining options, Volunteer options and part time work options
Avoidance of Isolation
Membership in the AARP network includes an automatic membership in the World Health Organization Global Network of Age-Friendly Cities and Communities. AARP has adopted a set of livable community factors developed by the World Health Organization (WHO), The 8 domains are:
Outdoor spaces and buildings
Transportation
Housing
Social participation; 
Respect and social inclusion
Civic participation and employment
Communication and information
Community support and health services. 
For additional information of the 8 Domains, click here