2022 ACHIEVEMENTS
INCREASE COMMUNICATION
For 2022, FONS set a goal of having 100 active participants in activities and committees. The first step in reaching that goal was to increase the number of email subscribers to the FONS weekly e-newsletter, Constant Contact. FONS raised the number of our email subscribers to 750 in 2022. As a second step, FONS launched an advertising campaign focused on FONS and the services it provides, spread over two months in the Newtown Bee. In addition, monthly senior social events were held at local restaurants that enjoyed active participation, including many new participants. The Events Committee began with a Meet and Mingle Event and an Oktoberfest at the NewSylum Brewing Company with many new faces. FONS also sponsored a well-attended performance at the Newtown Little Theatre, as well as booths at the Newtown Lions Great Pootatuck Duck Race and at the Newtown Arts Festival.
IMPROVE AND EXPAND SERVICES TO SENIORS
FONS augmented the Chore Services budget with grant funding from NextFifty. In 2022, Chore Services responded to 125 requests from Newtown seniors for help in home repairs, shopping, and transportation. For Senior Earth Day, Chore Services provided help with yard work for eight senior properties. In addition, FONS attended the AARP's HomeFit presentation and began follow-up with the Builder's Association. In an effort to raise awareness of senior health issues, FONS joined Nuvance Health's community health initiative, made plans to study New Canaan's pilot health programs, and participated in focus group discussions of equity in healthcare sponsored by Nuvance Health.
ADVOCACY AND ACTION
FONS improved its website and the format for its email outreach, Constant Contact, in 2022. Partnering with Newtown Savings Bank, FONS hosted a paper shredding event as a fundraiser. Other fundraisers in 2022 included a 50/50 raffle at the Oktoberfest at NewSylum Brewing Company, as well as the sale of locally produced Kettle Corn. FONS also co-sponsored the Jingle Bell Ride and Second Company Governor's Horse Guard benefit for the Newtown FAITH Food Pantry. FONS provided holiday gifts to seniors in need and ongoing contact for seniors who are housebound or ill. FONS coordinated with Newtown Human Services staff and the Board of Selectmen in completing and submitting Newtown's Livable Community Plan to AARP; it was subsequently approved.
WORK WITH SENIOR SERVICES AND COMMISSION ON AGING (COA) ON SENIOR PROGRAMS
FONS provided financial and personnel support for the Senior Center Thanksgiving and Holiday luncheons, and arranged for musical entertainment for the Holiday luncheon by the Harmony on the Sound Chorus. FONS also provided financial support for a number of other programs at the Senior Center. The FONS Board has invited the Director of Human Services to attend its monthly meetings to facilitate cooperation and avoid duplicating or conflicting projects. FONS also cooperated with the COA in developing the Livable Community Grant application. In addition, FONS was successful in obtaining four grants in 2022: NextFifty, WCAAA Title III Chore Services, WCAAA Title III Transportation, and CT Humanities Grant.
DEVELOP A COMMITTEE STRUCTURE
In 2022, FONS created a more focused committee structure with the addition of the following committees to those currently in existence: Events Planning, Outreach, Constant Contact, and HomeFit.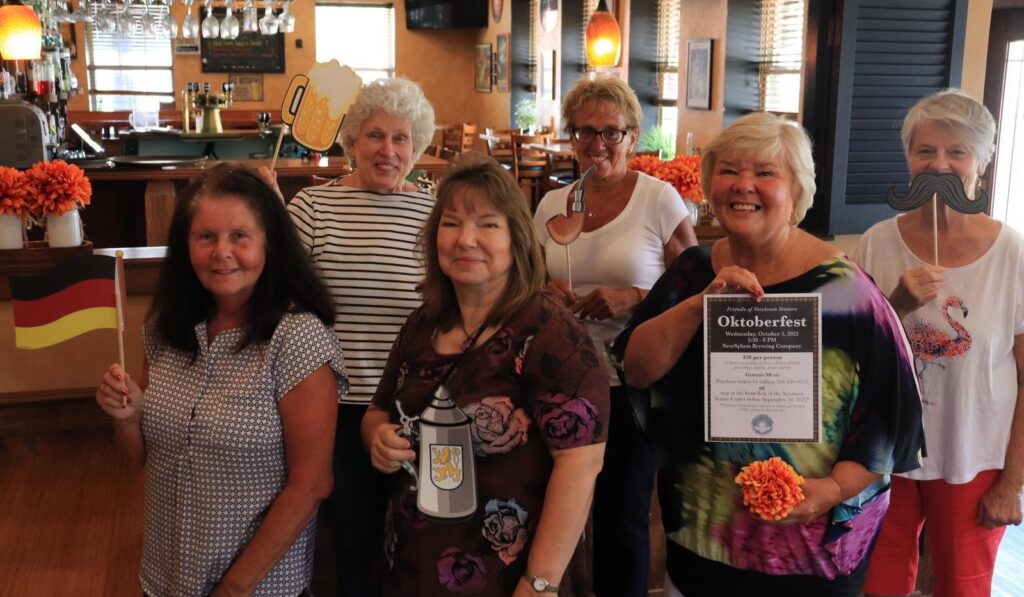 Photos courtesy of Shannon Hicks, The Newtown Bee, & FONS Board Members
---
2021 ACHIEVEMENTS
Communication: We continue to be guided by our mission and use the energy and knowledge of community members to promote the welfare of seniors in Newtown. FONS maintains an ongoing connection to our email subscriber base through our Constant Contact weekly mailings. We also effectively use the Newtown Bee to keep seniors informed of special events and programs.

Social: FONS returned to monthly social events at local venues and offered an opportunity to all to get together over dinner and catch up with others, especially important during the time of COVID. These events were well attended and well received.
Transportation: FONS applied for and received a grant to fund transportation for seniors in need. This grant was written in partnership with the Newtown Human Services Director, Natalie Jackson, and was funded in full. FONS provides funding for transportation needs on a case by case basis in cooperation with Newtown Human Services.
Chore Services: FONS has implemented Chore Services program that responded to 111 requests for assistance. Service requests included yard work, housecleaning, help with organization, snow removal, check-ins for shut-ins, minor home repairs, and major home repairs including roof replacements. Much of the work was accomplished by volunteers, some by paid professionals and in some cases by professionals who donated labor and material to complete the work.

Funding: FONS funding comes from three sources, grants, fundraising and donations. Grants have supported Chore Services during 2021 and grants are in place for 2022 for Chore Services and Transportation. Fundraising initiatives included a paper shredding event, Kettle Corn sales, and
coffee sale event. Donations are received, with much appreciation, through the generosity of our membership during our annual fund drive.
Gramts: Art Grant. Seniors were asked to write essays about their experiences during the pandemic, and then create a ceramic art piece that reflected their emotions, feelings, fears and joys of what they wrote. The essays were published in a book, and the ceramic art pieces were assembled into a larger display that is hung in the Newtown Senior Center.
Chore Services: This grant provided funding for Chore Services to help more than 100 seniors in need. Service included grocery shopping, railing addition, roof repair, leak repair, yard clean up, snow removal, holiday food baskets, and many referrals for assistance. Another grant is in place for next year.
Collaboration: FONS maintains productive working relationship with Human Services Department and the First Selectman's office, as well other local business and nonprofit agencies. Two members of the FONS Board also served on the Commission on Aging, and officers of the COA are often included on communications within the FONS organization. All worked closely on the recently completed
transportation survey as one example of this ongoing collaboration. First Selectman, Dan Rosenthal, and Director of Human Services, Natalie Jackson, continue to review and discuss the Livable Community draft plan presented to the Town by FONS President John S. Boccuzzi Sr. We continue the process of plan development. Natalie attends FONS Board meetings and providing advice and guidance.
---
Up to and including 2020
Assessed the Newtown senior environment and areas of need via a town – wide survey and forums attracting over 100 participants

Accepted leadership of the Newtown Age – Friendly Livable Community Initiative

Partnered with dozens of organizations to develop programs to enhance senior living in Newtown

Organized home maintenance resources service (Chore Service)

Launched ongoing collaborative projects to improve:

Senior housing
Transportation
Intergenerational opportunities
Dementia care
Senior volunteerism
Voter education
Senior-Newtown Schools dialog
Senior representation on boards and commissions such as Bikes and Trails


Funded furnishings for the new Senior Center

Assembled leadership partnership for 2020 CT Masters Games Team Newtown

Improved senior-focused communication tools, including the newtown -ct.gov "senior button" and FONS website, email and Facebook posts

Hosted monthly social hours and special events open to all